Archive for the ' Uncategorized ' Category
Apr 16, 2018 Uncategorized
Named 'Best Group/Duo' in the 2014 International Acoustic Music Awards, acoustic-duo Ryanhood got their first break more than a decade ago as street-performers at Boston's Quincy Market. It was there that they were spotted by a college booking agent and thrust into the college touring scene, where Campus Activities Magazine would name them "one of the most requested acts by college buyers all across the country." They've since gone on to perform more than 800 shows in 45 U.S. states over the past decade and have shared stages with Jason Mraz, Matt Nathanson, Train, and many more.
Cameron Hood's rich and folky lead vocals, Ryan Green's explosive guitar and mandolin riffs, and their airtight vocal harmonies prompted the Arizona Daily Star to call them, "a match made in radio heaven."
Their sixth and newest album, Yearbook, was recorded over the past year and half in bedrooms, living rooms, hotel rooms, and green rooms across the country. Led by their signature two-part vocal harmonies, and decorated with flares of guitar, ukulele, and mandolin, Yearbook centers on songs about being young, growing old, and making peace with the passing of time. They currently reside in their hometown of Tucson, AZ, where they have won more than a dozen Tucson Music Awards including "Best Folk Band" and "Best Rock Band" (you can decide for yourself which is most accurate).
" Hood's vocal delivery brings an affecting authenticity. Throughout, they play furiously together and Green's melodic leads and solos often provide the highlights. Their trademark acoustic folk-pop sound will remind some listeners of the work of Dan Fogelberg and Simon & Garfunkel." Tucson Weekly
Mar 8, 2018 Uncategorized
Georgia grown singer songwriter, Sarah Peacock, swings the pendulum across the spectrum of what's considered to be today's country music; bridging gaps between modern country, alternative country, folk, americana, and even classic rock. You'll find a truthful rawness in her music and real life themes of faith, overcoming struggle, and un-acquitted love that will leave you oddly feeling closer to home. And, most certainly you're sure to find a piece of your own story threading throughout the fabric of her songs.
Peacock is a country-rock powerhouse, and she's got one of the most dynamic voices in the business. Her soft, sultry ballad, "Hurricane" won best song in the 2014 American Songwriting Awards, and her song, "Beautiful" was a winner in the 2014 International Unsigned Only Competition. In 2013, Peacock was named Listening Room Network's Artist of the Year. Sarah was nominated for Best Female Artist in the 2015 International Acoustic Music Awards for her song, "Are We There Yet." Her song, "The Cool Kids" was a nominee for best song in the 2015 American Songwriting Awards. Peacock has released 6 albums and has toured over 200 dates a year since 2005.
Peacock was recently signed to Nashville label, American Roots Records. Her first EP under the new label, Beauty In The Ashes, Unplugged Vol. 1 is slated for release April 22, 2017.
"Singer-songwriter Sarah Peacock returns with her new album Dream On on May 10th. The all acoustic set, recorded at Eddie's Attic and the Bugle Boy, showcases Sarah's rich and powerful vocals [reminding one at times of Brandy Clark] paired with only her acoustic guitar for an incredibly intimate listen." thedailycountry.com
Jan 22, 2018 Uncategorized
Rupert Wates was born in London and studied at Oxford University. He has been a full time songwriter since the late 1990s, when he signed a publishing contract with Eaton Music Limited. His contract required him to write material in all kinds of styles and genres, for all kinds of artists. He worked extensively with Jazz vocalist Liz Fletcher, and wrote the album 'Blue Afternoons' (Mainstem, 2002) especially for her voice. Moving in 2001 to Paris, Wates formed his own quartet and began playing live regularly. In fall 2006 he came to the US. He is now based in New York City and Colorado.
His music is an eclectic mix of acoustic, melodic art/folk, with flavors of jazz, vaudeville and cabaret. He has released seven solo CDs. They have been very well reviewed in the online press and tracks from them have been played on radio all over the world. In addition, Wates' songs have been covered by other artists in the UK, Canada and the US.  No less than two full length tribute CDs to his material have been recorded: 'Crazy Puzzle' (2015) by Nashville-based performer Roxie Rogers, and 'Wide Open Heart' (July 2017) by Los Angeles vocalist Susan Kohler.
"A performer of the highest calibre…His guitar work was phenomenal. I'm not sure I've ever seen such beautiful work – his fingers are full of magic" (D. Provencher, Alamogordo Area House Concerts NM)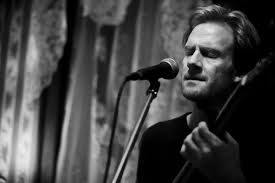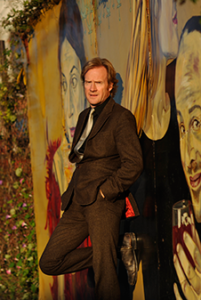 Nov 8, 2017 Uncategorized
George Ensle (pronounced Enslee) is a veteran Texas Singer/ Songwriter who began his career in Houston in the 60's sharing stages with legends Townes Van Zandt, Guy Clark and Billy Joe Shaver.
He pens his own brand of Texas Country Folk Storysongs, powerfully crafted and presented with his unique fingerpicking style on his Vintage Martin D-35.
He has won numerous songwriting awards, been awarded Government grants to teach songwriting, had his songs recorded by many other artists, and released albums and CD's in the US and Europe, including a New Movie – in Song CD, "Small Town Sundown", based on his original story, set in small town Texas.
"George Ensle… a song painter… mood-set pieces and deft strokes of masterful picking… easy… beautiful…bluesy…crafts a touching portrait." Build A Bridge CD Review/The Austin Chronicle
https://www.facebook.com/RockinBox33
Sep 6, 2017 Uncategorized
"hONEyhoUSe" is a unique acoustic trio combining the talents of three very diverse and seasoned artists into one unexpected powerhouse force. Consisting of award winning R&B/Gospel soulstress Hillary Smith, earthy Blues/Folk singer-songwriter Yvonne Perea, and sweet voiced Mandy Buchanan, "hONEyhoUSe" seamlessly melds the lines of musical genres with their original creations embracing blues, soul, folk and Americana into one sweet hONEyhoUSe of music.Three very different voices with one path…hONEyhoUSe.
Hillary Smith: With a deep soulfulness rooted in the Gospel-driven churches of her youth, a classically trained vocal instrument that's a natural wonder and a God-given instinct for swinging a lyric, vocalist Hillary Smith has been electrifying audiences across the US for more than a quarter century. She's a belter, but her voice also possesses great warmth and expressiveness, and she is able to get under the skin of those in her audience.
Yvonne Perea: With a seamless merging of folk, blues, and rock, Yvonne's music captures her audience through her memorable melodies, relevant lyrics, and soulful earthy vocals. After hearing Yvonne or watching her perform live, you come away with the feeling that you've really seen a glimpse of Yvonne's soul.
Mandy Buchanan: Red River songbird, Mandy Buchanan always delivers a moving, powerful performance whether she is singing with a lone guitar player or a full band, lead vocals or harmonies. Surrounded by a family of musicians, Mandy began singing in church at an early age. From country to blues, jazz to rock and roll, her sweet voice will take you by surprise when you least expect it.
"Beautiful Mistake is one of the most beautiful records that will be released all year. An absolutely flat-out devastating and stunning work of art."- Richard Skanse Lone Star Music Magazine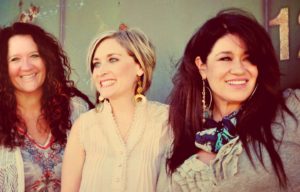 https://www.facebook.com/RockinBox33
Aug 21, 2017 Uncategorized
Laura Wortman and Kagey Parrish, collectively known as THE HONEY DEWDROPS, decided to settle down in Baltimore, MD. "Touring is like collecting images of landscapes, sounds of voices, contents of stories, moods of places and environments," says Wortman. And so the couple took their experiences on the road, and dug in to write and record their fourth album, TANGLED COUNTRY, in their new home. It's a beautiful and engaging take on modern American roots music and the first album of theirs entirely written, arranged, and recorded in one place; a testament to the power of home.
Wortman and Parrish's musical chemistry is so vivid here in recorded form that it's not surprising to learn that their live performances are often described as "mesmerizing," "evocative," and "genuine." The culmination of three years of writing and arranging, Tangled Country captures and communicates this as the duo weave dynamics and harmonies from one track to another, proving that The Honey Dewdrops bear the mark of musical maturity – in performance, arrangement, and songwriting.
"Handcrafted sound centered on swarming harmonies and acoustic guitars that churn like a paddlewheel and shimmer like heat waves on the highway." ACOUSTIC GUITAR MAGAZINE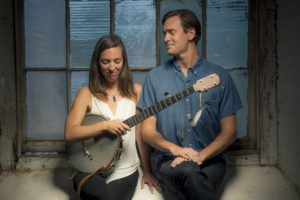 http://www.thehoneydewdrops.com/
https://www.facebook.com/RockinBox33
Aug 7, 2017 Uncategorized
En Power & Light consists of three individuals whose mission is to encourage, excite, and open space for people to be fully themselves. Gifting a soundtrack that is free of judgement and honest enough to realize we are all human.
Their sound is a mixed bag, including folk/blues/soul steeped in rich three part harmony. With the release of their debut album "Chrysalis", in May of 2015, and their second album "Come On Love" in 2017, En Power & Light has taken to the road with multiple nationwide tours and are continuing to travel across the U.S. in 2017.
While playing together as a trio for only 3 years, their performing together has some history. Scott and Paul are brothers, who have played together for 10 years. Paul and Lezlee were married in 2010, and not only recently have they been singing together. These three talented artists create a "hypnotizing" harmonic blend that is truly something special.
Paul and Lezlee currently reside in a 86 sq. ft. tiny house parked outside of Ft. Scott, KS. Their two huskies, Teko and Rola, also are part of the family. They are as much a part of the traveling adventures as the humans. Touring plans always are revolving around walks and feeding times!
"What an amazing experience! It's not just about the music – which is both refreshing and personal – it is about creating something unique, something missing. En Power & Light's performance brought us together in fellowship, teenagers to seniors, laughing, singing, enjoying. The way life is supposed to be!" Keith Harris, Merrimac, MA
https://www.enpowerandlight.com
https://www.facebook.com/RockinBox33
Jul 24, 2017 Uncategorized
San Antonio, Texas has always been the musical and cultural crossroads of the Lone Star State, fusing the state's modern Anglo-centric history with its centuries-old Latino past. Patricia Vonne is a product of this cultural menudo, growing up with the diverse blend of music in a family of ten wildly creative children- including her older brother, film director Robert Rodriquez. Through five albums, Vonne has found her own sound, harvesting a hybrid mix that has been interpreted as Texas border rock. Her latest album, titled Viva Bandolera, is a compilation of Spanish songs collected from her five previous albums that explore her experience as a Tejana. Out June 23rd on Bandolera Records, the album consists of 17 tracks including revised versions of "Severina" and the title track "Viva Bandolera."
Growing up in San Antonio, Vonne and her siblings were encouraged to forge their own creative paths. Her father, a native from Rio Grande Valley, came to San Antonio on a music scholarship and her mother, of Spanish descent, played guitar and sang Old World folksongs for her kids. The memories of Vonne's mother giving her and her siblings exposure to these historical songs and styles has stuck with her throughout her life, and she expertly melds this influence with her own affection for rock 'n' roll. She counts Forth Worth rocker Johnny Reno and his band, the Sax Maniacs, as her first exposure to the decidedly American genre.
"Growing up as a Tejana, I listened to the diverse music of San Antonio—country, rock, jazz, pop, conjunto and Tejano styles," she recalled. "When I started writing my own music, which is also a hybrid mix of sound and flavors, I felt a need to preserve and honor the rich cultural heritage of my upbringing."
https://www.facebook.com/RockinBox33
Jun 17, 2017 Uncategorized
Texas legend Jay Boy Adams is a Top-Five Americana Chart artist who has toured with ZZ Top, the Allman Brothers Band, Joe Cocker and Stephen Stills. In 2014, Jay Boy was inducted into the West Texas Walk of Fame (previous inductees include Buddy Holly, Waylon Jennings, Mac Davis and Joe Ely). Zenobia, who performed in the original Broadway production of Hair, is a singer/songwriter who has worked as a studio backup singer with notables including Luther Vandross. In the spring of 2015, she performed in the Kansas City Repertory Theatre's critically acclaimed re-imagining of Hair.
Jay Boy and Zenobia met in Santa Fe, N. M., beneath the clear desert skies. Inspired by this soaring horizon, they set out to make musical magic together. Along with the powerhouse rhythm section of Mister Sister (Josh English on drums and Trixie Merkin on bass), they've combined the best of blues, soul and Americana into an unexpected and irresistible mix.
Since embarking on this latest musical adventure, Jay Boy Adams & Zenobia have been rocking audiences in Santa Fe, Texas and beyond, drawing rave reviews for their unique blend of slide guitar, keyboards and harmonies. Audiences love the Santa Fe magic that the band conveys, and their compelling roots rhythms inevitably get everyone up and dancing. With a future as broad as the southwestern horizon, you'll realize what J.B.A. and Lady Z. have known from the beginning—the sky's the limit for this band!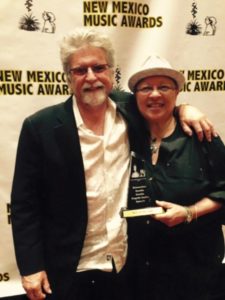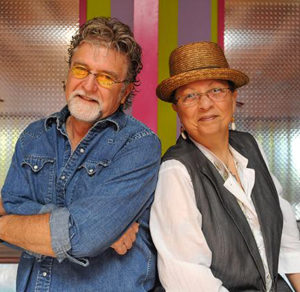 http://jayboyadamsandzenobia.com
https://www.facebook.com/RockinBox33
May 22, 2017 Uncategorized
From outside the rural arts hamlet of Winnsboro in the upper east side of Texas, award-winning performing songwriters Lynn Adler and Lindy Hearne (self-proclaimed "organic song farmers") tour nationally, serving up jazz- and blues-infused original songs in a genre they define simply as Texas Folk. Honored to be selected by the Texas Commission on the Arts to serve on the state's official Texas Touring Roster, the duo also enjoys the title of Official Texas Touring Artists for the September 2014-2018 touring season.
Adler & Hearne's music has grown deep roots in the pineywoods of their Spring Hollow Organic Song Farm. In 2016, the duo celebrated 15 years of organic song farming (A.K.A. writing songs with roots in real life) with the October release of their fifth duo recording "Simpatico" – a self-produced, double CD featuring 24 original songs – one disc Folk; the other disc Spirit. Though released late in the year, "Simpatico" was named among the FOLK DJ Top CDs of 2016. A number of songs on the new bare-bones recording feature seasoning added with a light hand, from guest musical artists Lloyd Maines, Glenn Fukunaga and Pat Manske.
Adler & Hearne's 2014 release "Second Nature," was produced by Texas music legend Lloyd Maines, and made the FOLK DJ Top 10. In 2005, the couple released their first duo CD in the form of a live, house-concert recording aptly named "Opposites Attract."
Their musical formative years share common experiences in folk, classical and gospel music – organic influences that inform their singing and songwriting. But the subject matter of their songs knows no bounds, nor does their musical style. Adler & Hearne's live sets range from harmonic convergence on songs of love and longing, losing and finding – to covering touchy subjects with unexpected musical overtones – to camping it up with modern day spirituals steeped in dry wit.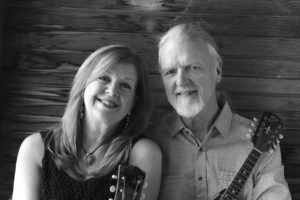 http://www.adlerandhearne.com/
https://www.facebook.com/RockinBox33/