Archive for the ' Uncategorized ' Category
Apr 1, 2017 Uncategorized
A world traveling troubadour with a long string of recorded songs and albums, Butch Hancock has been called "one of the finest songwriters of our time" and is acknowledged by his peers and critics alike as one of the premiere singer-songwriters Texas has ever produced. His tunes evoke mystical visions of wind-swept dry-plains and his lyrics are profoundly imaginative, often displaying for his listeners the miracles that occur in the ordinary through creative irony and metaphors. His lyrical style has often been compared to that of Bob Dylan and Woody Guthrie and his songs have been covered by the likes of Emmylou Harris.
Hancock is also a member of renowned country rock super-group, The Flatlanders, along with his lifelong friends, Joe Ely and Jimmie Dale Gilmore, a band they formed in 1972.
During his acclaimed career, Hancock has written and recorded several landmark albums, some of them sparse and simple, others as big as the West Texas sky. After moving to the progressive country hotbed of Austin in the mid-70s, he started his own label (Rainlight) and released the quintessential West Texas Waltzes and Dust-Blown Tractor Tunes in 1978. In the years that followed he continued to release albums deep with meaning and memory, a foundation that cemented his world-wide reputation as a master wordsmith. In 1990, Hancock and more than two dozen musician friends staged a Guinness Book of World Records worthy event entitled No Two Alike and played six straight nights of live performances in Austin's famed Cactus Café, recording 140 of his original songs without repeating a single song. He released the staggering output later in the year as the No Two Alike Tape of the Month club.
https://www.facebook.com/RockinBox33
Feb 17, 2017 Uncategorized
Father & Son duo are full of soul bringing their different styles into perfect harmony. Kevin Welch has lived starting out under John Hadley with Tree International in 1978. Kevin has put out thirteen albums since that time. Then with a group started Dead Reckoning Records that put out 21 records and decided to tour several countries and pairing with very diverse artists from all over the globe. Still having time to teach his son Dustin and sparking his interest in music. As happens when your father is a renowned songwriter (Kevin Welch) with a Nashville publishing deal and you grow up around some of the most gifted writers and hottest pickers in Music City, U.S.A., Welch was born and raised surrounded by music and displayed a natural affinity for any instrument he could get his hands on practically from the time he was in diapers. Then toured with several acts in 2006 Then back in 2009, after relocating to Austin, Dustin released his first album, titled Whisky Priest, after the main character in Graham Greene's consummate novel, The Power and the Glory. Another eventually followed in 2013 titled Tijuana Bible. Nowadays, he plays and tours on his own, with his band, and more than ever before, with his father Kevin. The highlight of Dustin's active schedule is hosting a weekly songwriting and guitar workshop in San Marcos for Armed Forces veterans. It's inspiring. It's a beautiful thing. This duo is unstoppable with the combined talent and experimentation of two different eras in music.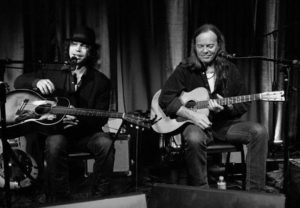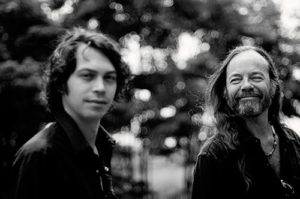 http://www.kevinwelch.com/photos.php
https://www.facebook.com/RockinBox33/
Feb 11, 2017 Uncategorized
Meeting via a chance YouTube sighting and fueled by their undeniable musical chemistry, eclectic Roots-Folk songwriters Dan Frechette, guitar/harmonica/vocals, and Laurel Thomsen, violin/vocals, prove that musical magic is possible. Lyrically refreshing and musically diverse, since meeting in person in early 2013, this Canadian-American duo has been making up for lost time. Logging over 150 concerts per year throughout the U.S. and Canada since then, they have already released three radio charting albums of their diverse and uplifting original material. Dan Frechette, Canadian entertainer, multi-instrumentalist, uncanny impressionist, and prolific singer-songwriter, is a musical force. Laurel Thomsen, California born genre-bending violinist, composer, published author, and respected educator, has performed classically and with a variety of bands and artists since 1998. With broad influences ranging from Folk, Classical, Old Time and Celtic, to Gospel, Jazz, Vintage Country, Rock N' Roll, Blues, and Bluegrass, Dan and Laurel flow seamlessly through genres, tempos, stories, and moods, embodying each style with virtuosic command and keeping music fans on the edge of their seats. Enjoyment is palpable.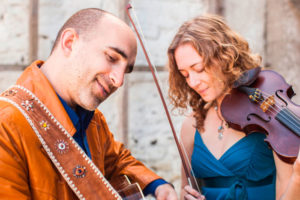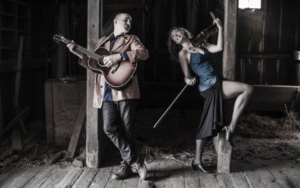 https://www.facebook.com/RockinBox33/
Nov 23, 2016 Uncategorized
Kelley McRae called Brooklyn home for years before teaming up with guitarist Matt Castelein in 2011, when the duo traded in their NYC apartment for a VW camper van and hit the road full time. Thousands of miles and hundreds of shows later, they have toured coast to coast in the US, played to packed rooms across Europe, sold-out the Bluebird Cafe in Nashville, and continue to build a passionate and dedicated following on the strength of their live performances.
Oct 22, 2016 Uncategorized
Bettman & Halpin play original Folk /Americana. Their concerts combine high-energy upbeat bluegrass/roots inspired compositions, beautiful ballads with soaring vocals and heartfelt lyrics, and groovy feel-good songs that audiences will be singing in their heads for weeks thereafter. Interspersed between these songs and instrumentals, they tell stories. They have become as known for their storytelling and playful banter as well as for their hooky whole-hearted songwriting and instrumental wizardry. They have been touring as a duo since 2008, and incorporating the trio and quartet since 2013.
"…Each song took me to a place to which I wish to return to again and again.  And I guess that is why it really does come back, comes back to a great love for what music can do…"
http://www.stephaniebettman.com/
Oct 3, 2016 Uncategorized
"hONEyhoUSe" is a unique acoustic trio combining the talents of three very diverse and seasoned artists into one unexpected powerhouse force. Consisting of award winning R&B/Gospel soulstress Hillary Smith, earthy Blues/Folk singer-songwriter Yvonne Perea, and sweet voiced Mandy Buchanan, "hONEyhoUSe" seamlessly melds the lines of musical genres with their original creations embracing blues, soul, folk and Americana into one sweet Honeyhouse of music.
Three very different voices with one path…hONEyhoUSe.
Sep 11, 2016 Uncategorized
Gabrielle Louise is a nationally touring troubadour noted for her poignant lyrics and lush voice. The daughter of two vagabond musicians, it is as though Gabrielle inherited the genetic predisposition to wanderlust and song. Her music is anchored deeply in folk and Americana, but undeniably drawn to rich harmonies and melodic adventurism. Her sound has the earthy feel of early Joni Mitchell while also veering into the spirited delivery of fellow genre-hopping artist Eva Cassidy. Unafraid to take a random musical escapade in the name of inspiration, Gabrielle is at one moment folkie and ethereal, the next moment a smoky jazz chanteuse.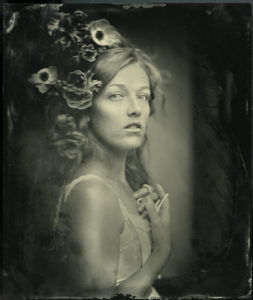 www.gabriellelouise.com
Jul 18, 2016 Uncategorized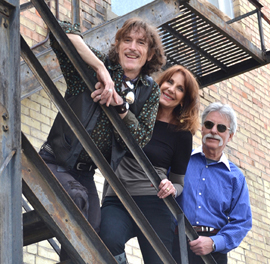 After nearly a decade of performing all over the West with their "60s' infused" rock group the Strolling Scones, Rick Stockton, Helen Highwater and Harry Knipe have evolved the band into a more compact unit, called simply The Scones.
Performing as a trio with acoustic guitar, banjo, bass and drums, they describe their music as "rockin' & rollin' Americana". All three members of the group are accomplished singers and the group's sound, centered around the songs written by guitarist Rick Stockton, are alive with harmony. Observing love, politics, the human condition, and never missing a potential hook, Stockton has garnered praise and accolades for his songwriting and The Scones are devoted to performing these songs with energy, humor, and conviction.
Having shared the stage individually or collectively with such names as Joe Cocker, Lyle Lovett, John Cowen, Jack Elliott, Robert Earl Keen, The Country Gazette, John Lee Hooker Jr., Otis Taylor, 3 Twins, Chuck Pyle, and more, The Scones are seasoned pros who provide a high energy, entertaining experience that you will not want to miss!
Watch The Scones "Sleeping in the Midday Sun"
Jun 27, 2016 Uncategorized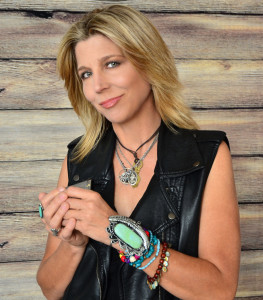 Terri Hendrix is a pioneering independent Texas songwriter who spins sorrow into joy and wrings wisdom from the blues with a poetic grace and engaging melodic flair that has endeared her to three generations of loyal fans around the globe. A classically trained vocalist and accomplished multi-instrumentalist (guitar, mandolin, and harmonica) recognized by "Acoustic Guitar" Magazine as one of Texas' 20 "essential" singer-songwriters, she is also one of its most prolific: counting the four brand new albums she aims to release in 2016 alone, Hendrix has averaged nearly an album a year going all the way back to her 1996 debut, "Two Dollar Shoes." Every one of those albums has been released on her own Wilory Record label, making her one of the few artists who has proudly owned everyone of her master recordings from day one. That autonomy has allowed her the freedom to dodge musical pigeonholes her entire career by weaving folk, pop, country, blues and swinging jazz into an eclectic style all her own — a playful mix that makes for a highly energetic and spiritually uplifting live show in any setting, from intimate listening rooms and theaters to outdoor festivals. Along the way, she's also co-written a Grammy-winning instrumental (the Dixie Chicks' "Lil' Jack Slade"), and garnered such honors as a star on the South Texas Music Walk of Fame, the Art of Peace Award by Saint Mary's University in San Antonio, the Distinguished Alumni Award at Hardin-Simmons University in Abilene, and a 2015 induction into the Women's Hall of Fame in San Marcos, Texas. Now well into her third decade as a performing artist, Hendrix is spending all of 2016 running a "sonic marathon" she calls "Project 5": four thematically-linked new albums and a book, all due by year's end. The first album, an intimate folk record called "Love You Strong," was released in February. Still to come in the summer and fall will be "The Slaughterhouse Sessions" (acoustic gospel blues), "Who Is Ann?" (electronica), and "Talk to a Human" (an eclectic singer-songwriter collection tying everything together). Last but not least will be her second book, a deeply personal account of her lifelong battle with epilepsy and the path she's braved to wellness. In addition to all of this (and teaching workshops, like her annual "Life's a Song" retreat in the fall), Hendrix is also hard at work building a nonprofit creative center for the arts serving the greater San Marcos area and beyond. It's called the OYOU, an acronym for "Own Your Own Universe" — words that this free-spirited, self-made woman has lived and thrived by her entire adult life.
Watch "Hand Me Down Blues" Terri Hendrix and Lloyd Maines
www.facebook.com/rockinbox33
Jun 6, 2016 Uncategorized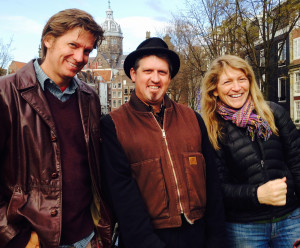 Boris McCutcheon was born on Massachusetts farmland, but has found his place in the mountains of New Mexico. His writing and music are reflections of the characters he has encountered and the landscapes he has surrounded himself with. Currently the foothills of the Sangre de Cristo mountains provide inspiration, but his songs are peppered with experiences on the shores of Cape Cod, Northern California, and Southwest deserts.
Boris's first two albums, Mother Ditch (2001) and When We Were Big (2003), were self-released and helped launch his career internationally. His killer album Cactusman vs. the Blue Demon (2005), as well as Bad Road, Good People (2008), are on the Frogville label out of Santa Fe, New Mexico. A fifth studio album, Wheel of Life (2011), debuted at the top of the Euro-Americana charts. WithUtrecht (2011), Boris and the Salt Licks offered their first live album, recorded by Jos Goverde in the Netherlands. A seventh album is now in production.
Boris's songs can be haunting like "Torn Faith" (Cactusman vs. the Blue Demon) or whimsical like the recent "Pony Ride." They can be full of reverence like "Charles Mingus Bird" (Cactusman vs. the Blue Demon) or rockin' sexy like "Santa Rosa Plums" (When We Were Big.)
Boris started out as a poet but later switched to songwriting. His compositions are a distillation of great love for American folk and roots music.
Some artists who brought him into the fold: Walt Whitman, Woody Guthrie, Bob Dylan, Townes Van Zandt, Jimi Hendrix, Steve Earle, Tom Waits, Leonard Cohen, Neil Young, and Taj Mahal. His material is raw and guided by a deep connection to the natural world—with a sense of humor always mixed in.
When Boris was 19 he met Ralph Rinzler—musician, ethnomusicologist, archivist and founder of Folkways Records and Smithsonian Folklife. He took Boris under his wing for a brief period and schooled him in traditional American folk roots music.
Of Rinzler, Boris says, "I never saw him without an instrument on his back or in his hands. First, I delivered his collection of early blues cylinders across the country, and later, when he found out I played guitar, I was given a few lessons by Ralph himself which left a long-lasting impact on my approach to writing and playing music."