Archive for February, 2017
Feb 17, 2017 Uncategorized
Father & Son duo are full of soul bringing their different styles into perfect harmony. Kevin Welch has lived starting out under John Hadley with Tree International in 1978. Kevin has put out thirteen albums since that time. Then with a group started Dead Reckoning Records that put out 21 records and decided to tour several countries and pairing with very diverse artists from all over the globe. Still having time to teach his son Dustin and sparking his interest in music. As happens when your father is a renowned songwriter (Kevin Welch) with a Nashville publishing deal and you grow up around some of the most gifted writers and hottest pickers in Music City, U.S.A., Welch was born and raised surrounded by music and displayed a natural affinity for any instrument he could get his hands on practically from the time he was in diapers. Then toured with several acts in 2006 Then back in 2009, after relocating to Austin, Dustin released his first album, titled Whisky Priest, after the main character in Graham Greene's consummate novel, The Power and the Glory. Another eventually followed in 2013 titled Tijuana Bible. Nowadays, he plays and tours on his own, with his band, and more than ever before, with his father Kevin. The highlight of Dustin's active schedule is hosting a weekly songwriting and guitar workshop in San Marcos for Armed Forces veterans. It's inspiring. It's a beautiful thing. This duo is unstoppable with the combined talent and experimentation of two different eras in music.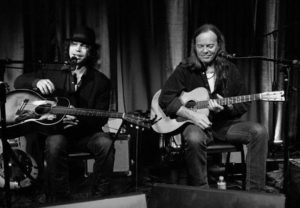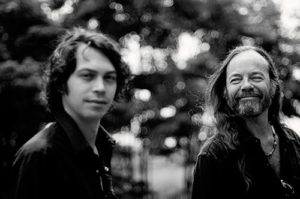 http://www.kevinwelch.com/photos.php
https://www.facebook.com/RockinBox33/
Feb 11, 2017 Uncategorized
Meeting via a chance YouTube sighting and fueled by their undeniable musical chemistry, eclectic Roots-Folk songwriters Dan Frechette, guitar/harmonica/vocals, and Laurel Thomsen, violin/vocals, prove that musical magic is possible. Lyrically refreshing and musically diverse, since meeting in person in early 2013, this Canadian-American duo has been making up for lost time. Logging over 150 concerts per year throughout the U.S. and Canada since then, they have already released three radio charting albums of their diverse and uplifting original material. Dan Frechette, Canadian entertainer, multi-instrumentalist, uncanny impressionist, and prolific singer-songwriter, is a musical force. Laurel Thomsen, California born genre-bending violinist, composer, published author, and respected educator, has performed classically and with a variety of bands and artists since 1998. With broad influences ranging from Folk, Classical, Old Time and Celtic, to Gospel, Jazz, Vintage Country, Rock N' Roll, Blues, and Bluegrass, Dan and Laurel flow seamlessly through genres, tempos, stories, and moods, embodying each style with virtuosic command and keeping music fans on the edge of their seats. Enjoyment is palpable.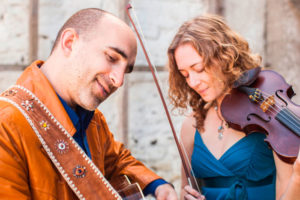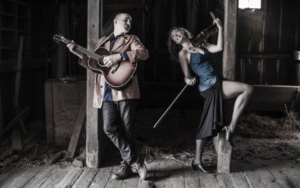 https://www.facebook.com/RockinBox33/