Archive for August, 2017
Aug 21, 2017 Uncategorized
Laura Wortman and Kagey Parrish, collectively known as THE HONEY DEWDROPS, decided to settle down in Baltimore, MD. "Touring is like collecting images of landscapes, sounds of voices, contents of stories, moods of places and environments," says Wortman. And so the couple took their experiences on the road, and dug in to write and record their fourth album, TANGLED COUNTRY, in their new home. It's a beautiful and engaging take on modern American roots music and the first album of theirs entirely written, arranged, and recorded in one place; a testament to the power of home.
Wortman and Parrish's musical chemistry is so vivid here in recorded form that it's not surprising to learn that their live performances are often described as "mesmerizing," "evocative," and "genuine." The culmination of three years of writing and arranging, Tangled Country captures and communicates this as the duo weave dynamics and harmonies from one track to another, proving that The Honey Dewdrops bear the mark of musical maturity – in performance, arrangement, and songwriting.
"Handcrafted sound centered on swarming harmonies and acoustic guitars that churn like a paddlewheel and shimmer like heat waves on the highway." ACOUSTIC GUITAR MAGAZINE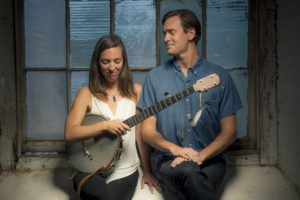 http://www.thehoneydewdrops.com/
https://www.facebook.com/RockinBox33
Aug 7, 2017 Uncategorized
En Power & Light consists of three individuals whose mission is to encourage, excite, and open space for people to be fully themselves. Gifting a soundtrack that is free of judgement and honest enough to realize we are all human.
Their sound is a mixed bag, including folk/blues/soul steeped in rich three part harmony. With the release of their debut album "Chrysalis", in May of 2015, and their second album "Come On Love" in 2017, En Power & Light has taken to the road with multiple nationwide tours and are continuing to travel across the U.S. in 2017.
While playing together as a trio for only 3 years, their performing together has some history. Scott and Paul are brothers, who have played together for 10 years. Paul and Lezlee were married in 2010, and not only recently have they been singing together. These three talented artists create a "hypnotizing" harmonic blend that is truly something special.
Paul and Lezlee currently reside in a 86 sq. ft. tiny house parked outside of Ft. Scott, KS. Their two huskies, Teko and Rola, also are part of the family. They are as much a part of the traveling adventures as the humans. Touring plans always are revolving around walks and feeding times!
"What an amazing experience! It's not just about the music – which is both refreshing and personal – it is about creating something unique, something missing. En Power & Light's performance brought us together in fellowship, teenagers to seniors, laughing, singing, enjoying. The way life is supposed to be!" Keith Harris, Merrimac, MA
https://www.enpowerandlight.com
https://www.facebook.com/RockinBox33