Archive for July, 2016
Jul 18, 2016 Uncategorized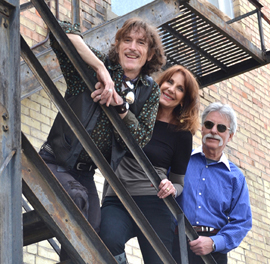 After nearly a decade of performing all over the West with their "60s' infused" rock group the Strolling Scones, Rick Stockton, Helen Highwater and Harry Knipe have evolved the band into a more compact unit, called simply The Scones.
Performing as a trio with acoustic guitar, banjo, bass and drums, they describe their music as "rockin' & rollin' Americana". All three members of the group are accomplished singers and the group's sound, centered around the songs written by guitarist Rick Stockton, are alive with harmony. Observing love, politics, the human condition, and never missing a potential hook, Stockton has garnered praise and accolades for his songwriting and The Scones are devoted to performing these songs with energy, humor, and conviction.
Having shared the stage individually or collectively with such names as Joe Cocker, Lyle Lovett, John Cowen, Jack Elliott, Robert Earl Keen, The Country Gazette, John Lee Hooker Jr., Otis Taylor, 3 Twins, Chuck Pyle, and more, The Scones are seasoned pros who provide a high energy, entertaining experience that you will not want to miss!
Watch The Scones "Sleeping in the Midday Sun"