Archive for September, 2017
Sep 6, 2017 Uncategorized
"hONEyhoUSe" is a unique acoustic trio combining the talents of three very diverse and seasoned artists into one unexpected powerhouse force. Consisting of award winning R&B/Gospel soulstress Hillary Smith, earthy Blues/Folk singer-songwriter Yvonne Perea, and sweet voiced Mandy Buchanan, "hONEyhoUSe" seamlessly melds the lines of musical genres with their original creations embracing blues, soul, folk and Americana into one sweet hONEyhoUSe of music.Three very different voices with one path…hONEyhoUSe.
Hillary Smith: With a deep soulfulness rooted in the Gospel-driven churches of her youth, a classically trained vocal instrument that's a natural wonder and a God-given instinct for swinging a lyric, vocalist Hillary Smith has been electrifying audiences across the US for more than a quarter century. She's a belter, but her voice also possesses great warmth and expressiveness, and she is able to get under the skin of those in her audience.
Yvonne Perea: With a seamless merging of folk, blues, and rock, Yvonne's music captures her audience through her memorable melodies, relevant lyrics, and soulful earthy vocals. After hearing Yvonne or watching her perform live, you come away with the feeling that you've really seen a glimpse of Yvonne's soul.
Mandy Buchanan: Red River songbird, Mandy Buchanan always delivers a moving, powerful performance whether she is singing with a lone guitar player or a full band, lead vocals or harmonies. Surrounded by a family of musicians, Mandy began singing in church at an early age. From country to blues, jazz to rock and roll, her sweet voice will take you by surprise when you least expect it.
"Beautiful Mistake is one of the most beautiful records that will be released all year. An absolutely flat-out devastating and stunning work of art."- Richard Skanse Lone Star Music Magazine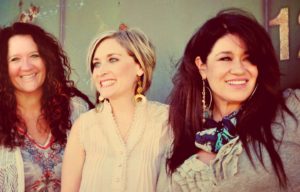 https://www.facebook.com/RockinBox33