Archive for April, 2016
Apr 11, 2016 Uncategorized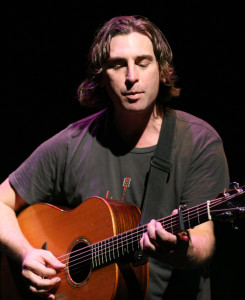 Songwriter, singer, guitarist, painter, fiddler, banjo player, eco-village member and believer in all things possible. Named 2016 Folk Alliance International Artist-in- Residence and signed to Tamulevich Artists Management. He's not afraid to walk outside the trends creating his own version of magic. He'll  surprise you and awaken the cynics.   He's plumbing for lyrical gold like a social archeologist.  His story songs are universal, his rhythm infectious and in concert, he is funny as hell one moment and transcendent the next.    photo: Linda McDonald
HE BELIEVES IN STORIES
Come to a show. You'll ride mystical, historical, and humorous roads, and twist through vivid cinematography.  His songs are being made into films.  They are visual, artful and human. Brooklyn in July, Oklahoma towns, rattlesnake tails, turbary thieves, Galway heather, meter maids and drunk roosters. At the end of the night, you'll leave inspired.  "The Long Note" is a phrase used in Irish culture."The Long Note" is that place of resonance and transcendence where the music, the voices, the instruments, and the community ALL come together and unite.
THERE IS A LONG NOTE & JOE IS REACHING FOR IT
Whether he's picking his 48 Gibson, weaving through lap slide songs or looping his fiddle, he will draw you in.  It happens every time.  Watch a YouTube video. It's good, but it's not the same. You gotta come to a show.  With unwavering courage to be himself, he is literate, poignant and funny as hell.
"I hate folk music, but I absolutely LOVE Joe Crookston's music.!"
"With all the performers out there, an artist has to go beyond good…and Joe does."
Find Rockin' Box 33 on Facebook