Archive for May, 2016
May 11, 2016 Uncategorized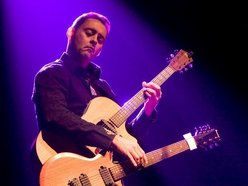 Rhett Butler is the Obsessive-Compulsive Guitarist
In 1987 he received his first guitar for Christmas. As his primary antidote against the pain and fear that he felt through his brother's bouts with cancer, Rhett retreated into the instrument. What blossomed was a fiery work ethic that is reflected in his mastery of multiple styles and his passionate performances.
Rhett was admitted to the prestigious jazz program at the University of North Texas in 1993. Early on, Rhett developed a trademark hammer-on style that allows him to play two guitars at once by fingering each of their fret boards, coaxing filigreed harmonies and shimmering melodies without needing to strum.
Though Rhett is most well known for playing two guitars at once, don't make the mistake of trying to classify him as a gimmick performer. He regularly features five or six different guitars during his performances.
Rhett has performed with Tommy Emmanuel, Larry Carlton, Al DiMeola, Eric Johnson, Joe Satriani, Larry Corryell, Tony Trischka, The California Guitar Trio, Carl Palmer, Andy Timmons and many other legends of instrumental music. He is among the next generation of Texas guitar heroes.
"10 fingers, 2 guitars and a room full of jaws hitting the floor." – Austin American-Statesman
"His entire set is from a completely different universe." -Fort Worth Star Telegraph