Aug 21, 2017 Uncategorized
Posted by top dog
Laura Wortman and Kagey Parrish, collectively known as THE HONEY DEWDROPS, decided to settle down in Baltimore, MD. "Touring is like collecting images of landscapes, sounds of voices, contents of stories, moods of places and environments," says Wortman. And so the couple took their experiences on the road, and dug in to write and record their fourth album, TANGLED COUNTRY, in their new home. It's a beautiful and engaging take on modern American roots music and the first album of theirs entirely written, arranged, and recorded in one place; a testament to the power of home.
Wortman and Parrish's musical chemistry is so vivid here in recorded form that it's not surprising to learn that their live performances are often described as "mesmerizing," "evocative," and "genuine." The culmination of three years of writing and arranging, Tangled Country captures and communicates this as the duo weave dynamics and harmonies from one track to another, proving that The Honey Dewdrops bear the mark of musical maturity – in performance, arrangement, and songwriting.
"Handcrafted sound centered on swarming harmonies and acoustic guitars that churn like a paddlewheel and shimmer like heat waves on the highway." ACOUSTIC GUITAR MAGAZINE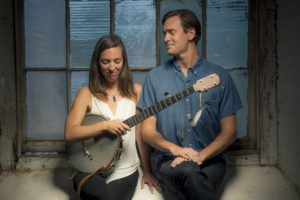 http://www.thehoneydewdrops.com/
https://www.facebook.com/RockinBox33