Jan 18, 2016 Uncategorized
Posted by top dog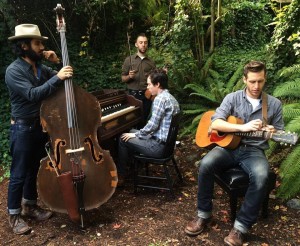 The Americans perform original rock & roll with deep roots in traditional American music. They have performed on the Late Show with David Letterman, twice joined Grammy and Oscar winner Ryan Bingham on national tours, and played the first dance at Reese Witherspoon's wedding. They have backed up Nick Cave, Tim Robbins, and Lucinda Williams.
The Americans appear throughout American Epic, a four hour primetime PBS / BBC special produced by Jack White, Robert Redford, and T Bone Burnett, featuring Nas, Elton John, Alabama Shakes, and Willie Nelson (coming spring 2016).
The Americans recorded an original song for Hal Willner's Son of Rogue's Gallery (ANTI- Records), an album of sea chanties and pirate songs featuring Tom Waits, Keith Richards, and Iggy Pop, executive produced by Johnny Depp. Reviewing the album in Believer magazine, critic Greil Marcus wrote, "The Americans [are] led by Patrick Ferris, whose deep voice doesn't sound like Richard Manuel's but feels like it."