Jun 6, 2016 Uncategorized
Posted by top dog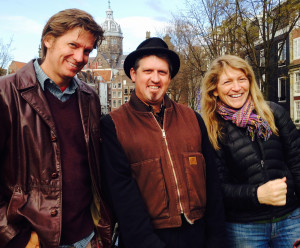 Boris McCutcheon was born on Massachusetts farmland, but has found his place in the mountains of New Mexico. His writing and music are reflections of the characters he has encountered and the landscapes he has surrounded himself with. Currently the foothills of the Sangre de Cristo mountains provide inspiration, but his songs are peppered with experiences on the shores of Cape Cod, Northern California, and Southwest deserts.
Boris's first two albums, Mother Ditch (2001) and When We Were Big (2003), were self-released and helped launch his career internationally. His killer album Cactusman vs. the Blue Demon (2005), as well as Bad Road, Good People (2008), are on the Frogville label out of Santa Fe, New Mexico. A fifth studio album, Wheel of Life (2011), debuted at the top of the Euro-Americana charts. WithUtrecht (2011), Boris and the Salt Licks offered their first live album, recorded by Jos Goverde in the Netherlands. A seventh album is now in production.
Boris's songs can be haunting like "Torn Faith" (Cactusman vs. the Blue Demon) or whimsical like the recent "Pony Ride." They can be full of reverence like "Charles Mingus Bird" (Cactusman vs. the Blue Demon) or rockin' sexy like "Santa Rosa Plums" (When We Were Big.)
Boris started out as a poet but later switched to songwriting. His compositions are a distillation of great love for American folk and roots music.
Some artists who brought him into the fold: Walt Whitman, Woody Guthrie, Bob Dylan, Townes Van Zandt, Jimi Hendrix, Steve Earle, Tom Waits, Leonard Cohen, Neil Young, and Taj Mahal. His material is raw and guided by a deep connection to the natural world—with a sense of humor always mixed in.
When Boris was 19 he met Ralph Rinzler—musician, ethnomusicologist, archivist and founder of Folkways Records and Smithsonian Folklife. He took Boris under his wing for a brief period and schooled him in traditional American folk roots music.
Of Rinzler, Boris says, "I never saw him without an instrument on his back or in his hands. First, I delivered his collection of early blues cylinders across the country, and later, when he found out I played guitar, I was given a few lessons by Ralph himself which left a long-lasting impact on my approach to writing and playing music."